UK FREE

SAT CHANNELS in Spain via internet without dish!


This is a

Broadband subscription

HD receiver for Live TV
What we offer is UK TV on your HD TV screen in SPAIN.
. This receiver requires a monthly fee of EUR 14.95, no annual engagement, take it for a month only !
How to connect the
UK
TV receiver?
You have the choice between WiFi or Liveplugs or ethernet cable. Whichever suits you best. See the schemas below: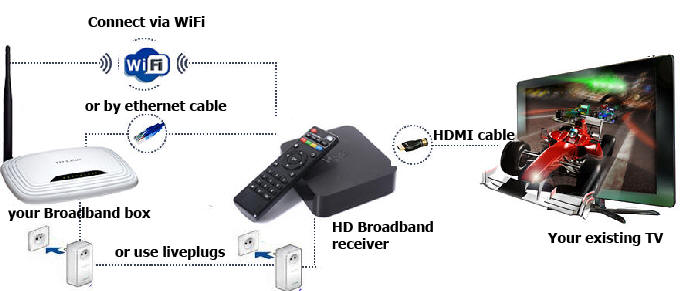 It is essential that you mesure first your internet speed before you purchase.
Use the blue button at the bottom of the page to mesure the quality of your ISP. If you reach 3 Mb/sec or higher this system will work just fine for you. Not sure yet if this is the right TV receiver for you? Get our documentation, everything is explained.